Found this juicy little bit over at
Sound Destruction
about the
2005 RICHMOND ZOMBIE WALK
.
The event was organized by the folks over at
I-Mockery
and featured dozens of folks wandering around the one-time Capital of the Confederacy's downtown in search of brains...BRAAAIINSSS!
(Speaking of which, no clue why this guy took a bite out of my arm last night over by the cemetery. I look like shit this morning, green and achy. And I have a temperature of 70 degrees or so...can't be good. Probably just bird flu...And for some reason, people's heads are starting to smell like mom's home cookin'.... )
For those who don't understand the whole brains thing, please check out the 1985 punk-zombie-dark-comedy horror flick,
Return of the Living Dead
. The soundtrack's hard to come by, but anyone who's a fan of TSOL or 45 Grave should try to dig up a copy on vinyl...
---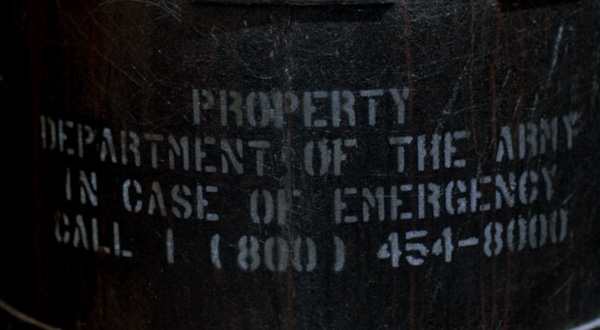 Note to people who work in archives, museums, or other historical document repositories trying to work your way up the institutional ladder...
If you find a metal vat with the these markings
(image at left
) while cleaning out your basement, please insist that your curator or director open it. Tell them that its a gift from a valuable donor or something. Your local custodians, coroner's office, and National Guard unit may be a bit pissed, but hey, it could lead to a promotion.